The main interface of MiniTool System Booster is simple and user-friendly. Explore this guide to familiarize with the clear and intuitive main interface of MiniTool System Booster.
Main Interface of MiniTool System Booster
MiniTool System Booster's main interface contains 3 parts: the top menu bar, the left dashboard, and the right Performance Home panel.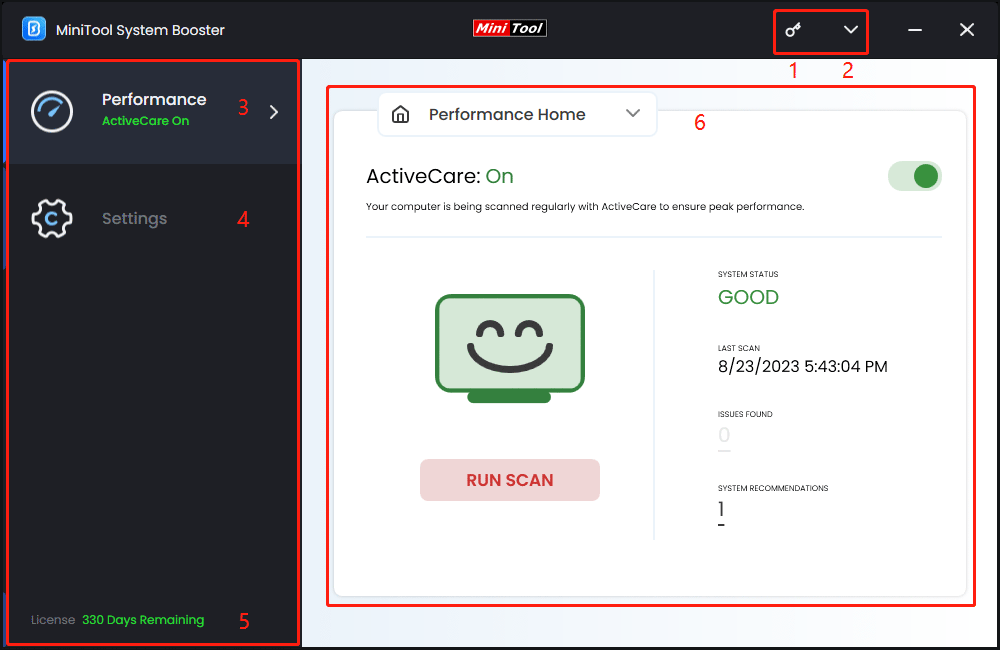 Here is MiniTool System Booster main interface introduction:
Top Menu Bar
1 – Production Information
Enter or view the current product license and expiration dates.
2 – Help
This expandable menu comprises five sections, namely:
Get Help Online, Super Control Panel, What's New, Contact Us, and Check for updates.
Left Dashboard
3 – Performance
Supply quick access to ActiveCare, Deepclean, Toolbox, and LiveBoost.
4 – Settings
Customize system options and the frequency of System Booster's updates and tasks.
5 – License Remaining Days
Displays the remaining days on the license.
Right Performance Home Interface
6 – Performance Home
Run ActiveCare and switch between different features.