Your data may get lost because of various reasons, such as hard drive errors, accidental deletion, hardware or software issues, etc. Don't worry. Now, this post about hard drive data recovery will introduce some excellent tools to help recover your lost data.
Reasons for Hard Drive Data Loss
Nowadays, more and more people focus on their data security because data loss can happen anytime and anywhere, especially when you are suffering from cyber-attacks, system errors, hardware failure, etc. That's why you should choose a professional hard drive data recovery software.
There are some common situations that can put you at risk of data loss.
Mistaken data deletion
Hardware failure
Virus or malware infection
System errors
Software issues
Data corruption
Physical hard drive destruction
How to Recover Data from Hard Drives?
If you are looking for a way to recover data from hard drives, there are three options you can choose based on your situation.
Option 1: Restore the deleted files or folders from the Recycle Bin.
When you find your files missing, you may check the Recycle Bin first where all your deleted data can be temporarily kept.
Option 2: Perform a recovery if you have created a backup before.
Some people may have prepared a backup for the important files and when the data gets lost, your backup can make a big difference in getting things back.
Option 3: Recover deleted files from the hard drive with the help of third-party software.
You can rely on some file recovery software that can help recover files in different situations. For this, we will give you some recommendations for reference.
Hard Drive Data Recovery Software
Tool 1: MiniTool System Booster
MiniTool System Booster is a multifunctional file recovery software. It provides many useful functions in Toolbox for file and system management. People can use the Search & Recover feature to recover files of different types that have been accidentally deleted or quickly formatted.
You can download and install the freeware for try on Windows 11/10/8.1/8/7.
MiniTool System Booster TrialClick to Download100%Clean & Safe
Step 1: Launch the program and in the Performance tab, expand the Performance Home menu to choose Toolbox.
Step 2: Under Toolbox, click Search & Recover.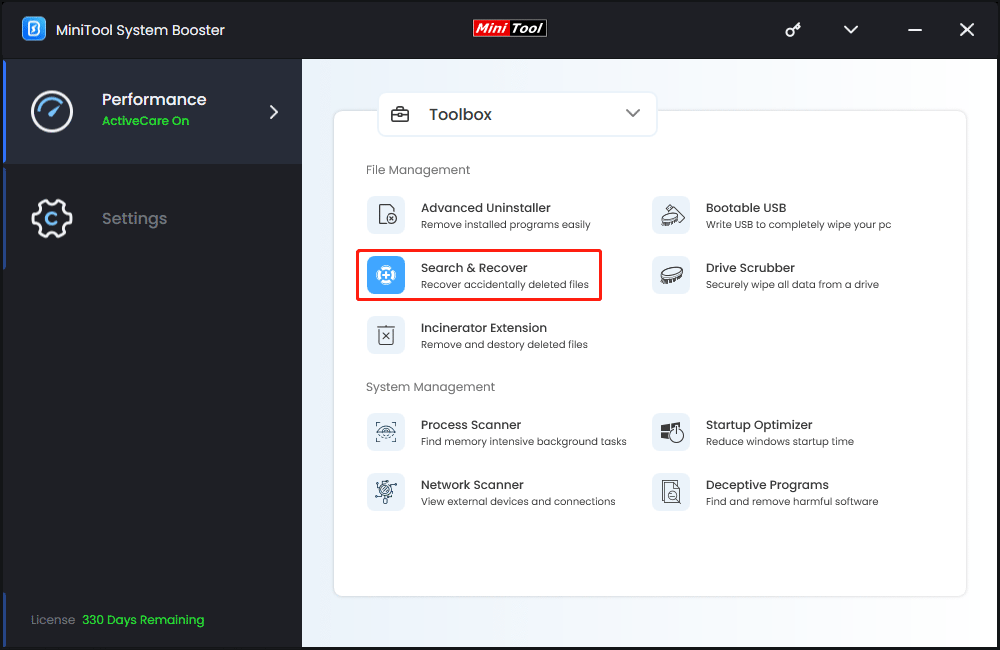 Step 3: Then you can choose the location where you want to search for the data and select a location to save recovered files.
Note:
Please make sure the two locations are different to avoid overwriting data.
Step 4: Choose the scan type you want to perform. There are two options – Use SmartScan and Use StrongScan.
Use SmartScan – It can eliminate irrelevant and useless junk files from searching, making it faster and easier to find the files you need.
Use StrongScan – It can perform a sector-level search and reassemble data but the search time will significantly increase.
Step 5: Click the Search option to start the scan and when the scan finishes, a list of files will show. Please choose the file you want to restore and click Recover selected files to start it.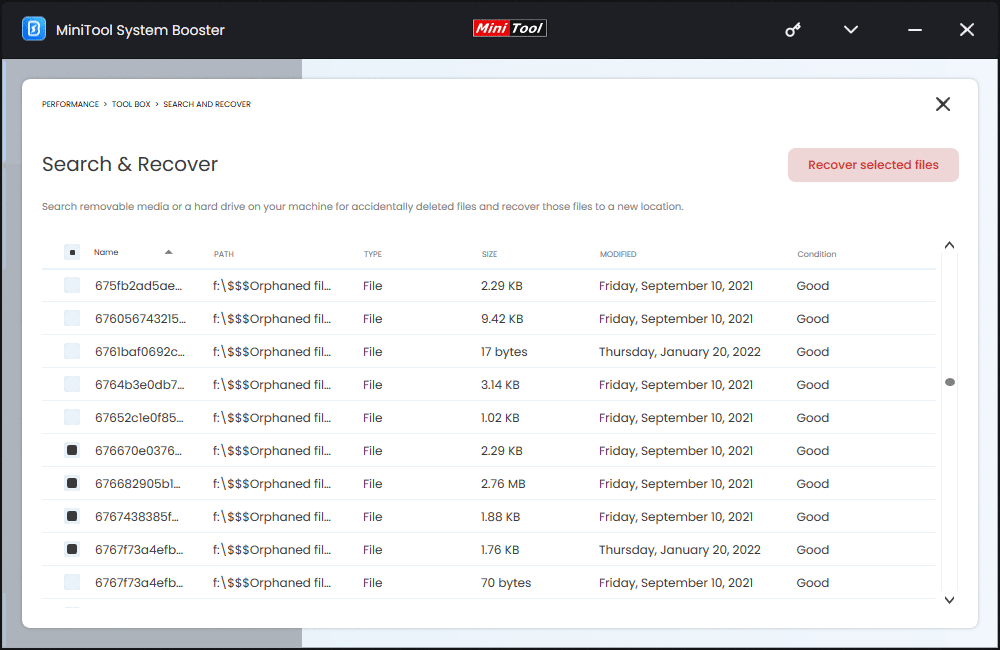 Apart from the data recovery function, MiniTool System Booster is also a PC optimizer. It can automatically speed up CPU, RAM, and adjust hard drive resources for peak PC performance, scan and repair system issues, clean up junk files, etc.
To perform all these tasks, you just need to click one button and the scan will start automatically, giving your computer a full and thorough cleanup. With its powerful functions, it is worth trying here!
Tool 2: MiniTool Partition Wizard
MiniTool Partition Wizard is also a professional data recovery software that can help recover data from hard drives. This tool can perform a series of tasks to manage disk partitions and maximize disk performance. Of course, it can do a great job in performing data recovery.
The data recovery feature can recognize and recover lost/deleted files from damaged, formatted, inaccessible FAT/NTFS/exFAT drives and Desktop/Recycle Bin/specified folders. You can upgrade this program to the Pro Platinum version and enjoy this feature.
MiniTool Partition Wizard DemoClick to Download100%Clean & Safe
Want to know how to use this wonderful software? Read this post and follow to try it: Hard Drive Recovery: Recover Lost Data and Restore Lost Partition.
Tool 3: MiniTool Data Recovery
MiniTool issued a software specifically designed for data recovery – MiniTool Data Recovery. This tool can cope with various data loss situations, such as deletions, formatting errors, OS crashes, virus attacks, etc., for Windows PC, Server, and Mac users.
You can try this software to recover lost files from a laptop, HDD, SSD, USB drive, memory card, and more. There is a free trial version for you.
MiniTool Power Data Recovery FreeClick to Download100%Clean & Safe
Here, this post can help you use this tool to recover your files easily: Tips On How To Recover Data From Hard Drive After Analysis.
Protect Your Data – Backup
The above-recommended tools can help you recover data from hard drives, but that is not a long-term solution. More than the data lost, sometimes, you may be undergoing system crashes or drive destruction, which means a bigger loss than your data.
Here, we would like to provide another choice for data recovery – backup. We have mentioned that apart from data recovery software, backup can be a quick and easy way to help retrieve data. Besides, with the back, you can even perform a drive or system recovery more than data.
It is quite important to choose a reliable backup software for your regular backup. MiniTool ShadowMaker has been developed into a mature and professional backup expert. Many excellent features and functions, such as password protection, backup schemes, schedule settings, etc., are available for a better user experience.
You may click the button to try this program.
MiniTool ShadowMaker TrialClick to Download100%Clean & Safe
If you wonder how to perform a data backup and recovery, you can refer to this post: What Is Data Backup and Recovery & How to Perform It Effectively.
Bottom Line:
Hard drive data recovery, this technique has tended to be mature. People can recover their lost data in minutes and minimize the risk of data loss. MiniTool System Booster can do its best to recover your lost files and it is worth trying!