Want to boost up the internet, clear junk files, resolve registry issues or release more memory on a Windows computer? Users can try the Deepclean feature of MiniTool System Booster.
What Does Deepclean Do?
Various inefficiencies including fragmented hard drives, splintered system memory, and unnecessary startup programs can bring a computer's processing to a crawl. Users can use the tools in Deepclean to resolve these performance-draining issues and boost the speed and performance of a PC.
Deepclean contains cleanup tools such as NetBooster, Internet Cleanup, Windows Cleanup, Registry Cleanup, Security Optimizer, Program Accelerator, and Memory Mechanic, to help users maximize the speed of their computers and improve overall performance.
How to Run Deepclean?
Users can click Performance from the left dashboard, then select Deepclean from the drop-down menu of Performance Home.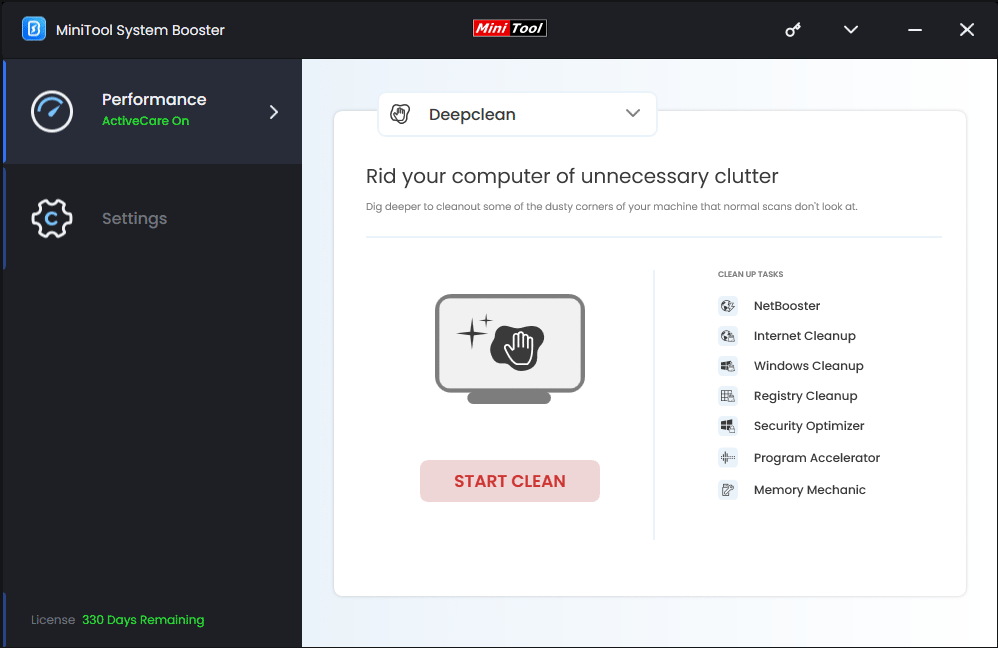 After clicking the START CLEAN button on the Deepclean pane, the following 7 tools will run in sequence:
1. NetBooster
Optimize hidden basic Internet connection settings to increase network speed and stability.
Restore Internet settings to defaults.
Fully control the network connection by fine-tuning each hidden Internet setting.
2. Internet Cleanup
Clean out only Internet junk and personal data, such as temporary files, cache, cookies, form autofill data, saved passwords, and more.
3. Windows Cleanup
Clean out only Windows junk and private data, such as temporary files, recent document lists, broken shortcuts, Recycle Bin, and more.
4. Registry Cleanup
Remove registry problems, such as invalid and obsolete data references, to clean and streamline the registry.
5. Security Optimizer
Find and repair Windows security flaws that leave the system open to attack.
6. Program Accelerator
Re-align program data on a hard drive. Boost file access speed and increase drive efficiency by re-aligning program data and defragmenting files on the hard drive.
7. Memory Mechanic
Maximize free memory. Defragment a PC's RAM to improve overall speed and stability.
Users need to take appropriate action to deal with the found issues after every tool runs completely.