Some people will upgrade their computers regularly when the old one has lost its value. Computers host a private data bank, which means you can't just easily pass it on to somebody or abandon it. It is worth discussing this topic – how to dispose of old computers. Please keep reading.
How to Dispose of Old Computers?
There are three options you can choose to dispose of old computers.
Option 1: Repurpose Your Old Computer
Reuse your old computers, that saying, there is more than one way to put the old device in use. Although you may want to shift all the working loads and focus on the brand new one, the old computer can be your backup and part of your productivity.
1. Make the computer as a backup. You can keep the old computer as a storage location for your data backup. Once your new computer gets some errors, leading to data loss, you can recover the backup with a functional replacement.
2. Use the old computer as a file server. You can configure your computer to be a shared storage for the new computer so that you can easily access the same data among different devices.
Tips:
To back up and transfer data, we recommend you use
MiniTool ShadowMaker free
. It allows you to
back up files
& folders, partitions & disks, and your system. Besides, you can also use it to share files and folders.
MiniTool ShadowMaker TrialClick to Download100%Clean & Safe
You can refer to these articles for details:
3. Install an operating system with low system requirements. You may want to discard your computer because of the outdated basic equipment, which cannot support a high-intensity operation. However, you can install a lightweight OS for basic word processing, web browsing, simple games, etc.
Option 2: Sell or Donate the Computer
If your computer can work well and no obvious defects exist, you can choose to sell the device. You can issue a post on the second-hand resale website. Some people are willing to buy a second-hand product as long as the computer still catches the brand tendency or has some irreplaceable features.
Or you can give this old computer to your relatives or friends. If no one wants your computer, you can donate the device to a school, non-profit, or philanthropic organization. Try to contact a local school, church, youth organization, non-profit, or charity and ask if they're willing to find a use for your old computer.
Option 3: Recycle Your Old Computer
Some people, when find their computer worthless and unable to make any profitable turns, just casually discard the device to the garbage bin. Don't hurry to do that. Those computer wastes can become an environmental and health hazard for the local community.
There are other ways to recycle old computers.
1. You may contact your computer manufacturers for safe disposal options. Many computer manufacturers will provide some sort of end-of-life disposal service for their products.
2. You can ask the computer seller if the company supports trade-in and you may receive a discount on your new computer.
3. You can contact a computer recycling or disposal firm. Some companies are born for processing, recycling, and disposing of computer waste. Just search for this organization around and hand your device to the experts. They will know how to deal with the waste.
Before You Dispose of Old Computers
No matter which way you decide to dispose of old computers, you need to make some preparations to protect your privacy. Your old computers may have been used to store much important data in the old days; besides, your browser history, social records, emails, etc. will be scattered on your drives.
People with bad intentions can retrieve your personal information and others based on the slightest clue. So, it is important to erase all of the data from the device and make sure the key information can be recovered by no means.
Nowadays, some tools are developed to recover deleted or formatted data from the drive. Even though you permanently delete the files, people can also find another way to get them back. So, how to safely get rid of an old computer?
MiniTool System Booster – a PC cleaner – can help you destroy the data that no means can restore. You can use it to thoroughly erase the traces of your files and folders. Please download and install this program for this 15-day free trial version.
MiniTool System Booster TrialClick to Download100%Clean & Safe
Step 1: Launch the program and in the Performance tab, expand the Performance Home tab to choose Toolbox.
Step 2: Under File Management, click Incinerator Extension and enable the toggle to turn it on.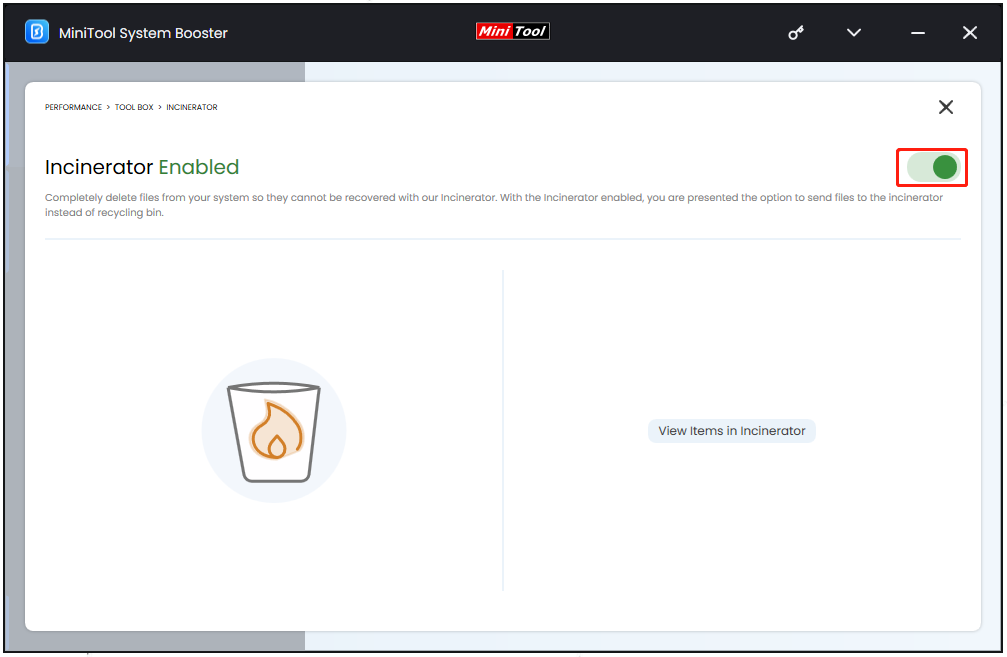 Step 3: Go back to the desktop and you will find a bin icon named Incinerator.
You can drag the file you want to erase to this bin and right-click on it to choose Incinerate all items. Or you can select all the files and folders you want to remove and right-click on them to choose Incinerate now.
If you have moved the files to the Incinerator bin but don't want to incinerate them, you can double-click on the icon, select the file, and click Restore this item to restore that. For more settings, you can click Incinerator Settings to configure that.
MiniTool System Booster has other functions that can help erase the data, protect your privacy, and safely dispose of old computers.
Bootable USB – It can completely wipe a Windows computer, especially the system disk. You need to prepare a USB drive to create a bootable USB drive.
Drive Scrubber – This allows users to completely wipe the contents from a drive. Not that users are not allowed to wipe the drive that Windows is installed.
Related articles:
Bottom Line:
This post can help you securely dispose of old computers. Apart from just throwing it away, the devices can work another way to play their value. Hope this article can resolve your concern – how to dispose of old computers.