Speed up your RAM regularly and timely can improve your computer's performance. So, how to speed up RAM on Windows 11/10? This post from MiniTool provides 8 tips for you.
RAM (Random Access Memory), also known as computer memory, is an important part of a computer system. It is a temporary storage where applications can store and access data briefly. RAM is a type of volatile memory, which means its contents are lost when the computer is shut down or restarted.
An increase in RAM enhances your computer's performance and responsiveness by allowing your computer to store and access more data at the same time. When you open a program or file, it is loaded into RAM for quick access by the processor.
Also see: Can RAM affect FPS? Does RAM increase FPS? Get Answers!
There are a few different ways to free up RAM space. Follow the below tips to make your PC/laptop work more efficiently.
Tip 1: Use MiniTool System Booster
First, you can try the free RAM cleaner – MiniTool System Booster to speed up your RAM. This software supports various operating systems including Windows 11/10/8/8.1/7. It can boost the PC speed and find and repair system issues.
Now, let's see how to speed up RAM with MiniTool System Booster.
1. Download MiniTool System Booster from the following button. You can use the Trial edition for 15 days.
MiniTool System Booster TrialClick to Download100%Clean & Safe
2. After installing it, double-click it to run it to enter its main interface.
3. On the main interface, click the drop-down menu to choose LiveBoost.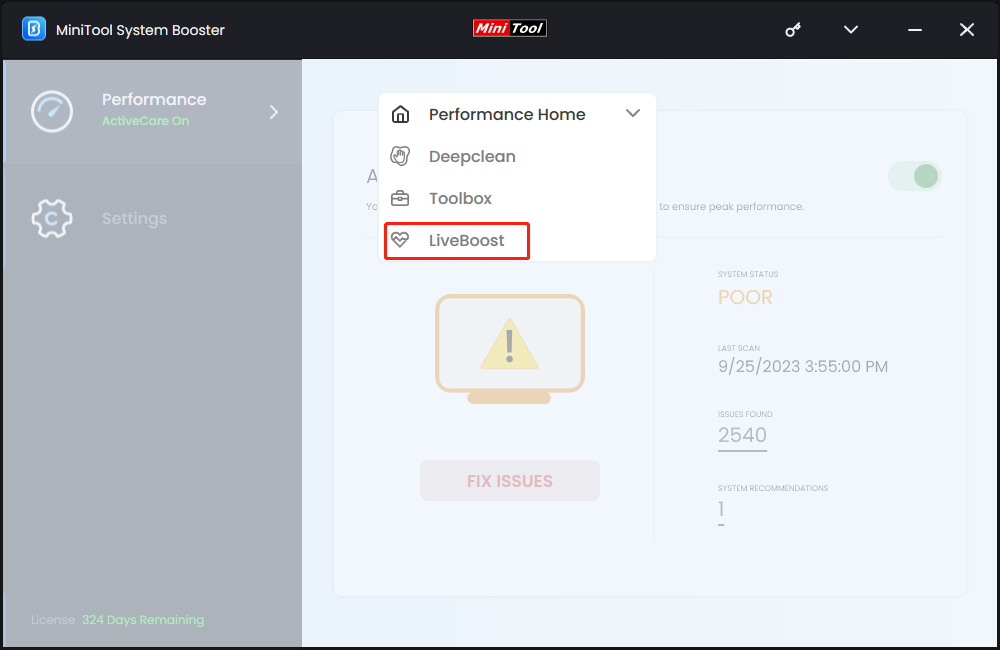 4. Under the Configuration part, turn on the RAMJet button to free trapped memory from apps that no longer need it.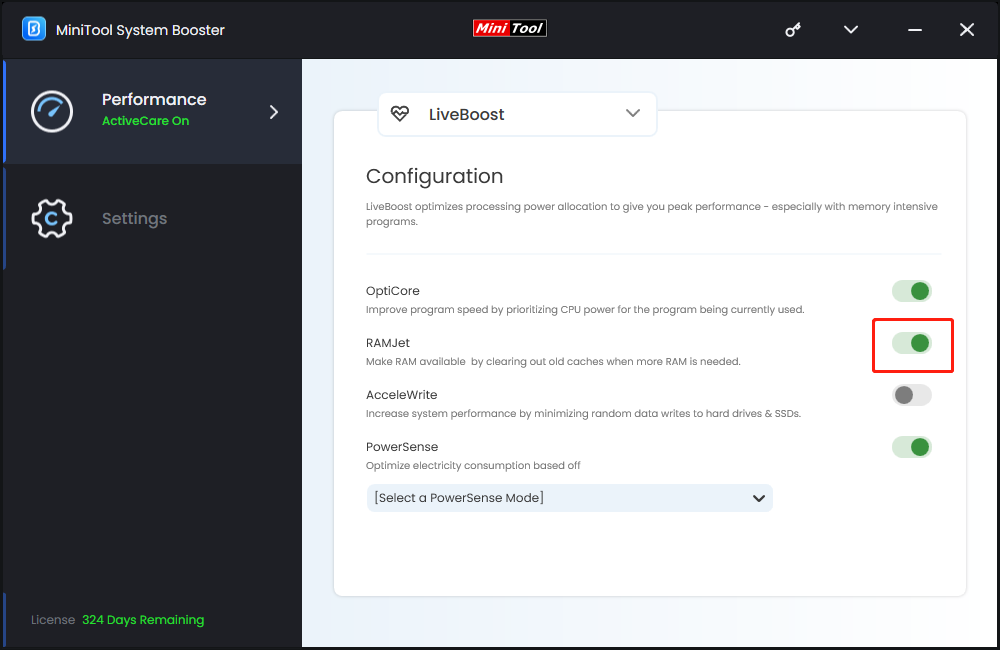 You can also try the Memory Mechanic feature to speed up your RAM on Windows 10.
1. Launch the app again, you can see the Performance Home page. Click the drop-down menu to choose Deepclean and click START CLEAN.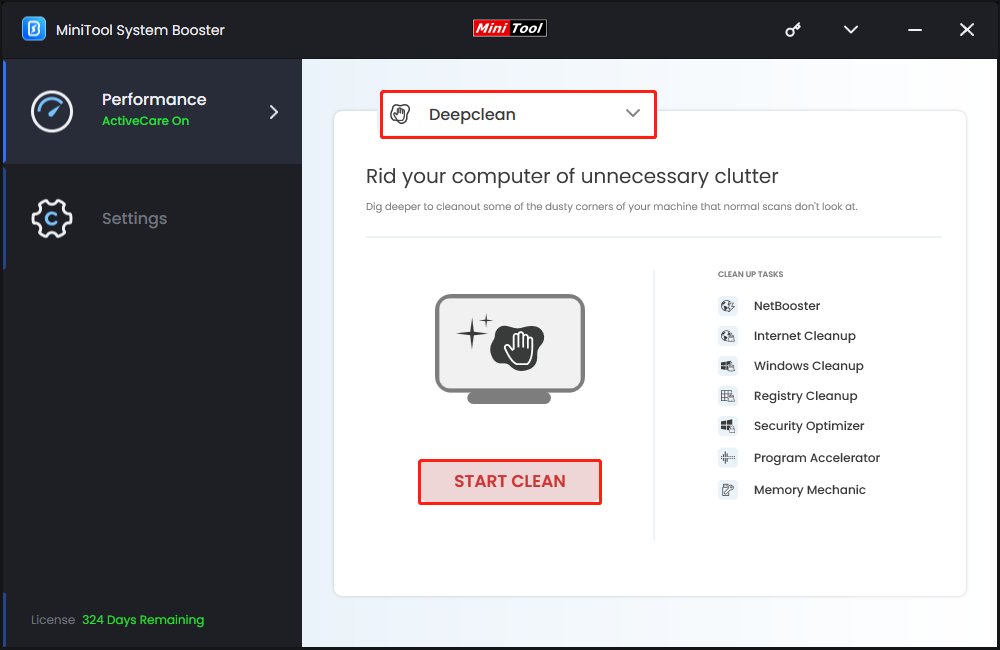 2. Then, the following 7 tools will run in sequence:
NetBooster
Internet Cleanup
Windows Cleanup
Registry Cleanup
Security Optimizer
Program Accelerator
Memory Mechanic
3. You can click skip until you reach the Memory Mechanic part. You can see the available and in-use RAM. Then, click the RUN MEMORY MECHANIC button.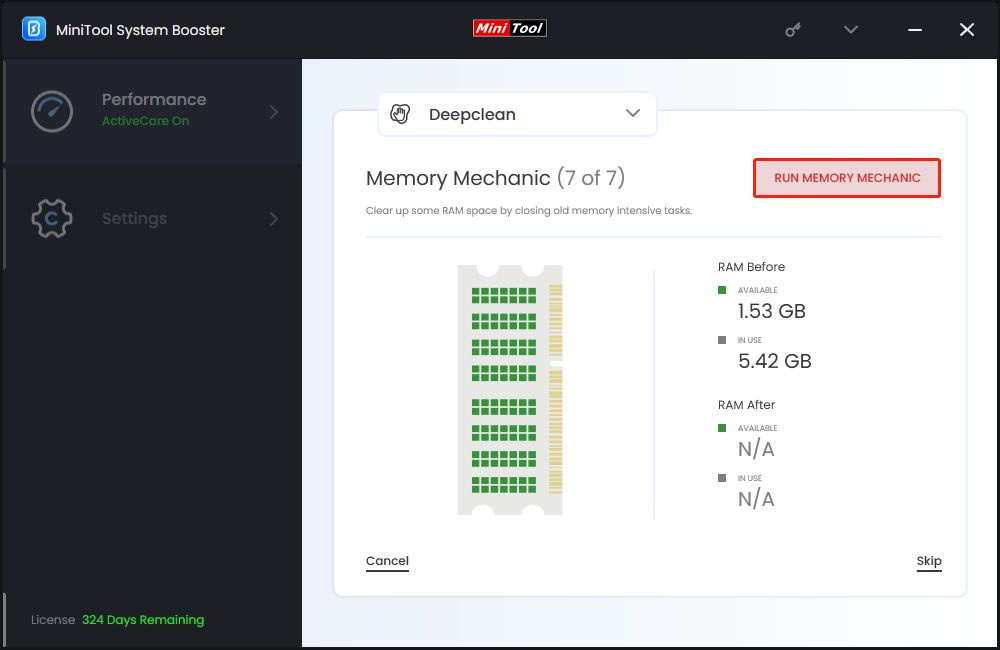 Tip 2: Restart Your PC
Restarting your computer will also completely clear the contents of RAM and restart all running processes. It will clean up processes running in the background that may be hogging memory.
Tip 3: Uninstall Unneeded Software
You can go to Task Manager to check which program uses the most RAM and you can consider uninstalling it.
1. Type Control Panel in the Search box and click Open to launch it.
2. Change the view method to Category. Click Uninstall a program under the Programs part.
3. Find and right-click the app you want to remove and click Uninstall.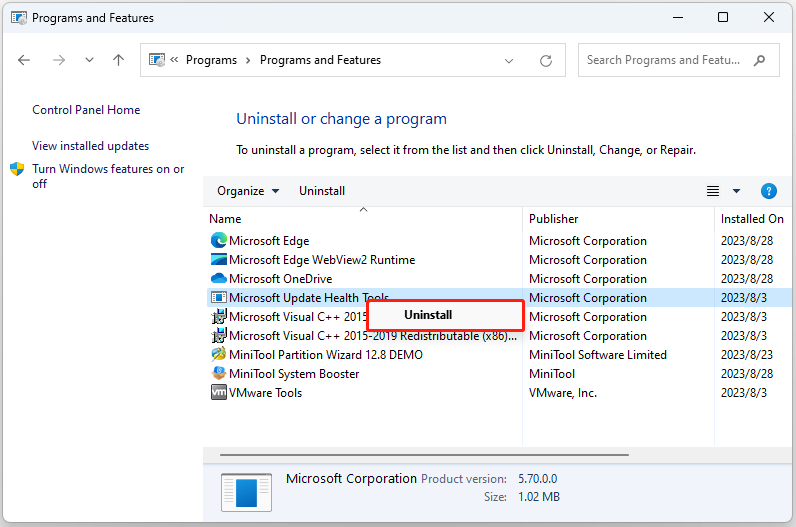 4. Follow the on-screen instructions to uninstall it.
Tip 4: Disable Startup Programs
How to speed up your RAM in a laptop? Disabling startup programs can also be helpful. Here is how to do that on Windows 10.
1. Press the Ctrl+Shift+Esc keys together to open Task Manager.
2. Then, switch to the Startup tab. You'll see a list of all the apps that start up automatically each time Windows loads. By default, the list should be sorted by name, software publisher, startup status, and startup impact.
You can choose the high-impact app and click the Disable option.
Tip 5: Try a Different Browser
Sometimes, you can try a different browser because some have been known to use more data than others. Chrome or Firefox is recommended, which are typically good browsers for memory management.
Tip 6: Remove Browser Extensions
Many of your daily work and home computer operations have been made by the use of browser extensions. However, they also require memory, so you may need to think about disabling or removing your extensions.
Related post: Avast Secure Browser vs Chrome: What's the Difference?
Tip 7: Update Your Application
For security reasons, you should always update your applications to the latest version. This action can also help you reduce RAM waste.
Some applications suffer from memory leaks, which occur when the program does not return RAM to the pool after using those resources. These apps will use more and more RAM, starving other applications on the system of resources. If your application has memory leak issues, installing the latest updates will resolve the issue.
Tip 8: Adjust Virtual Memory
How to speed up your RAM? You can try to adjust the virtual memory.
1. Type Control Panel in the Search box. Go to System and Security > System.
2. Click Advanced system settings.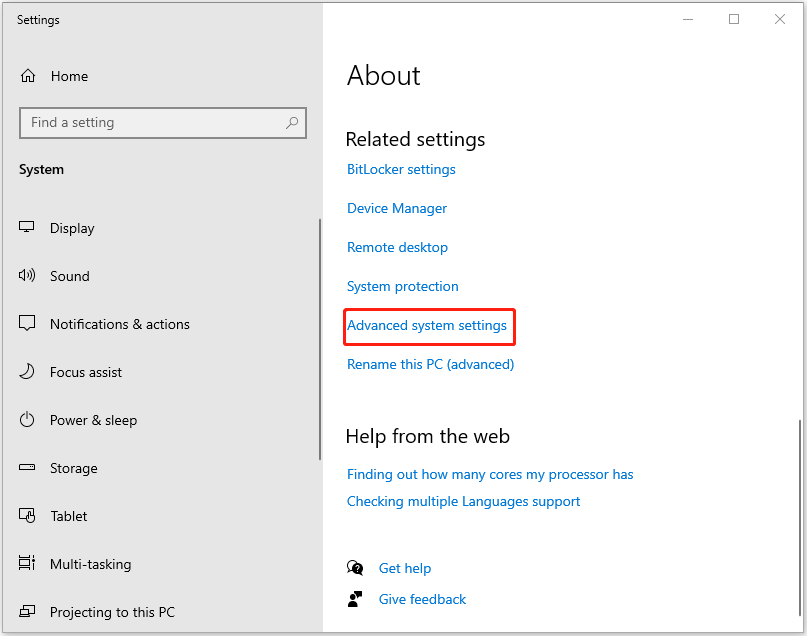 3, Under the Advanced tab, click Settings… under the Performance part.
4. Go to the Advanced tab, and click the Change… button in the Virtual memory section.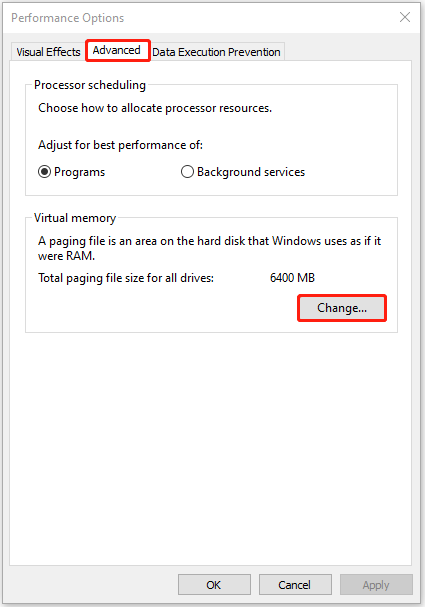 5. In the pop-up window, the Automatically manage paging file size for all drives option is selected by default.
6. Just uncheck the box and choose a drive you want to edit the paging file size for. Generally, the C drive is selected in most cases.
7. Click Custom size, and type the initial size and maximum size of the paging file in megabytes (MB) depending on the physical memory in your PC.
Final Words
After reading this post, you can know how to speed up your RAM on Windows 11/10. Hope the 8 tips can be helpful for you. If you have any suggestions, you can contact us via [email protected].